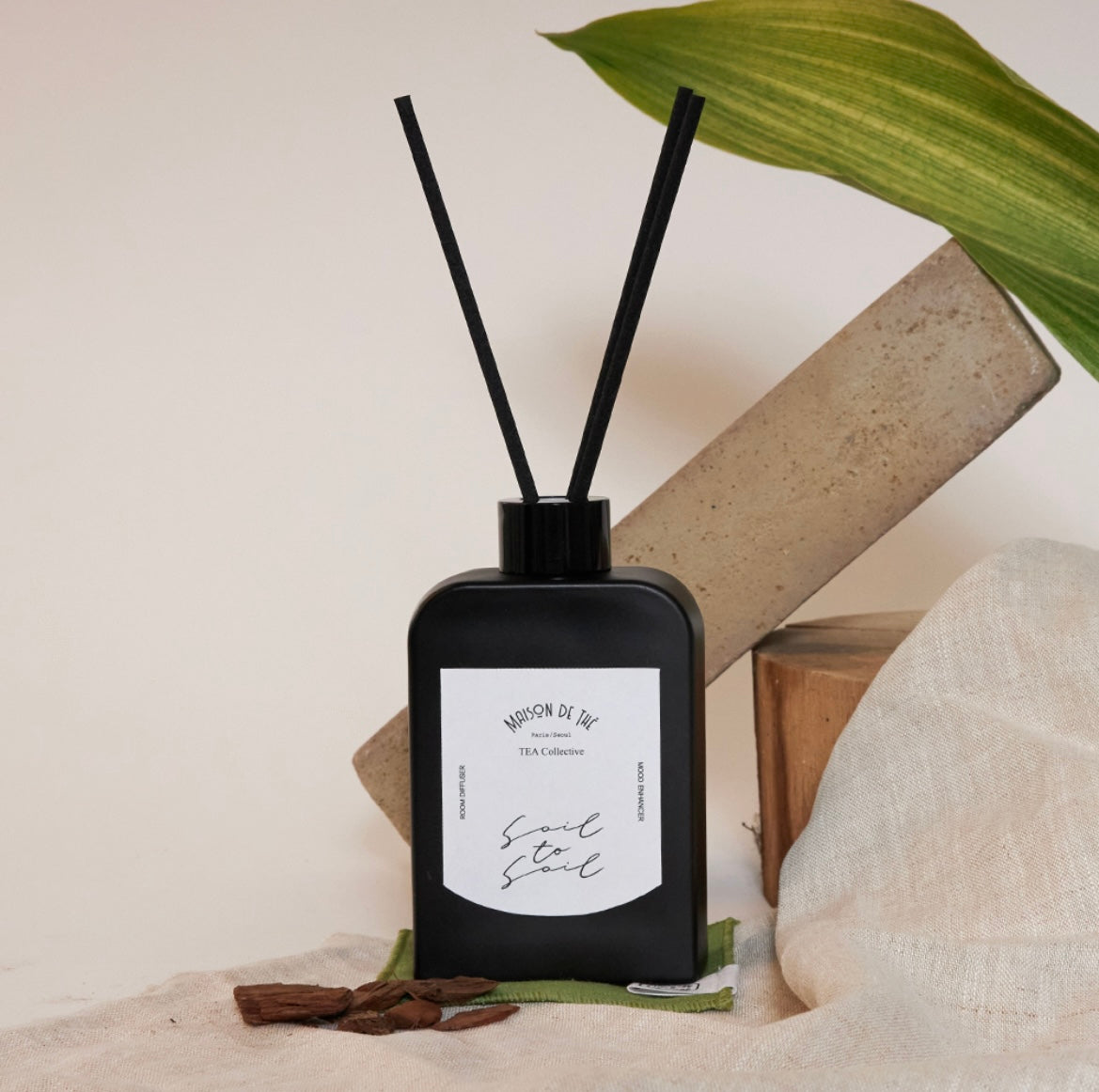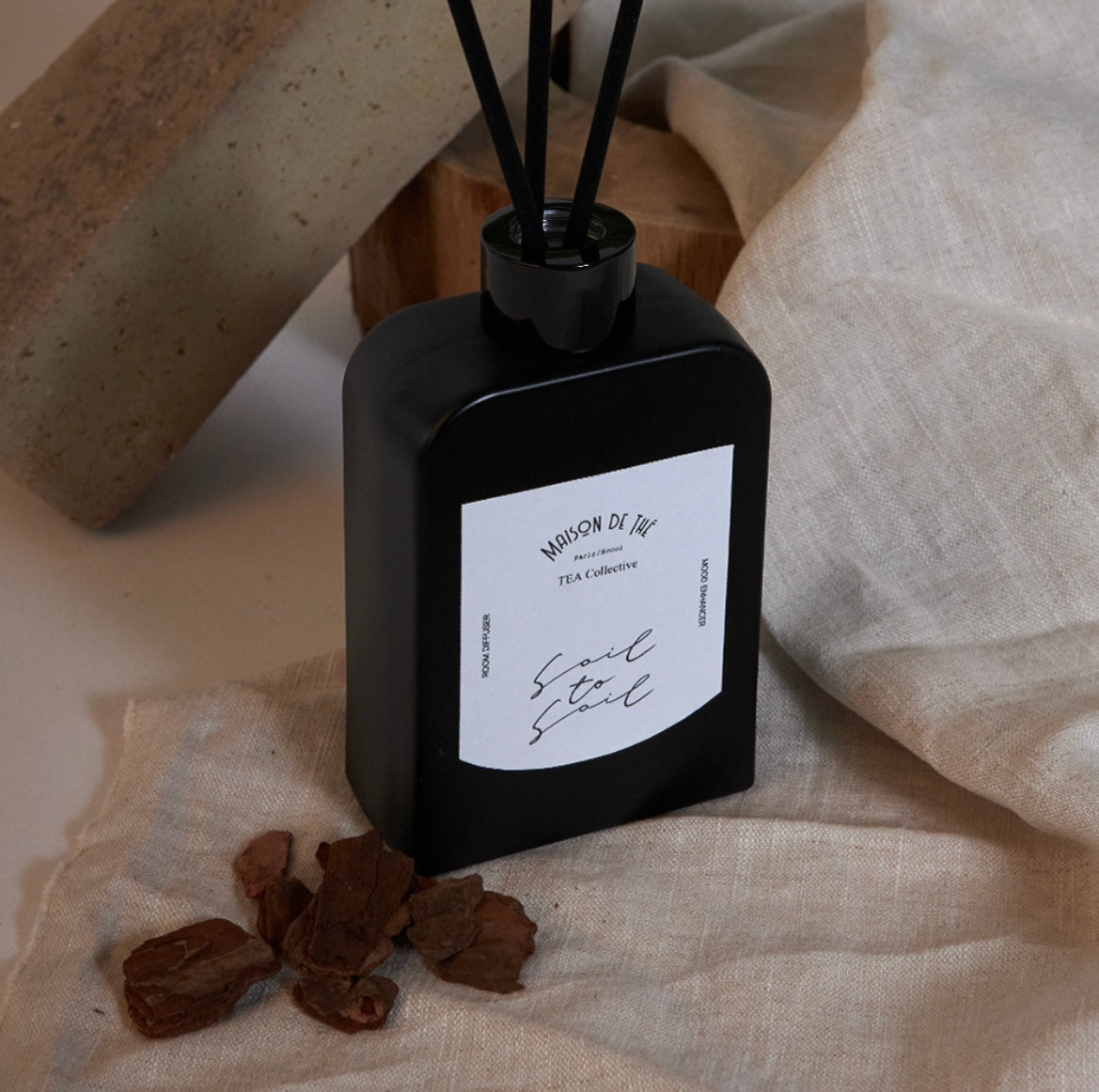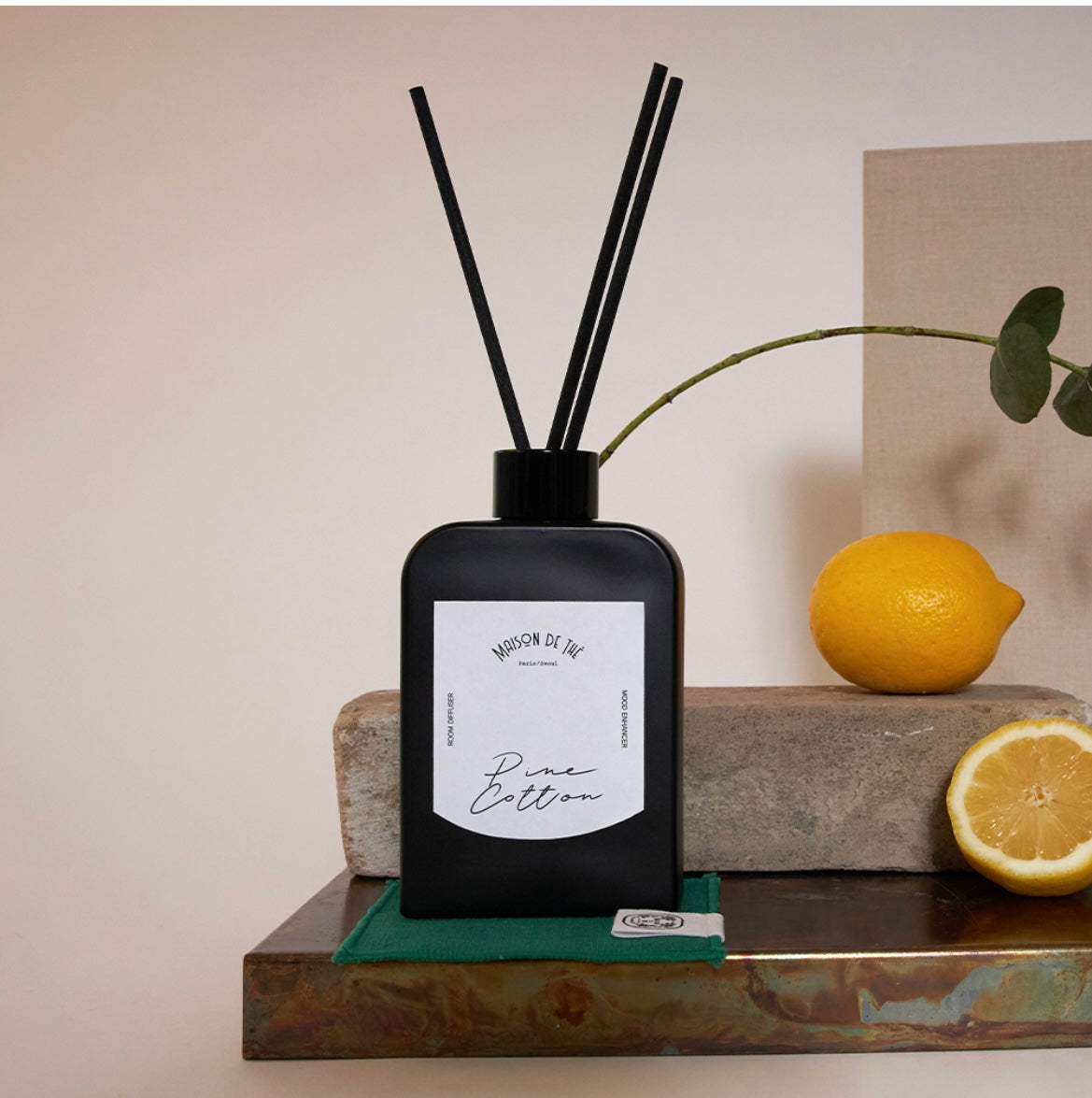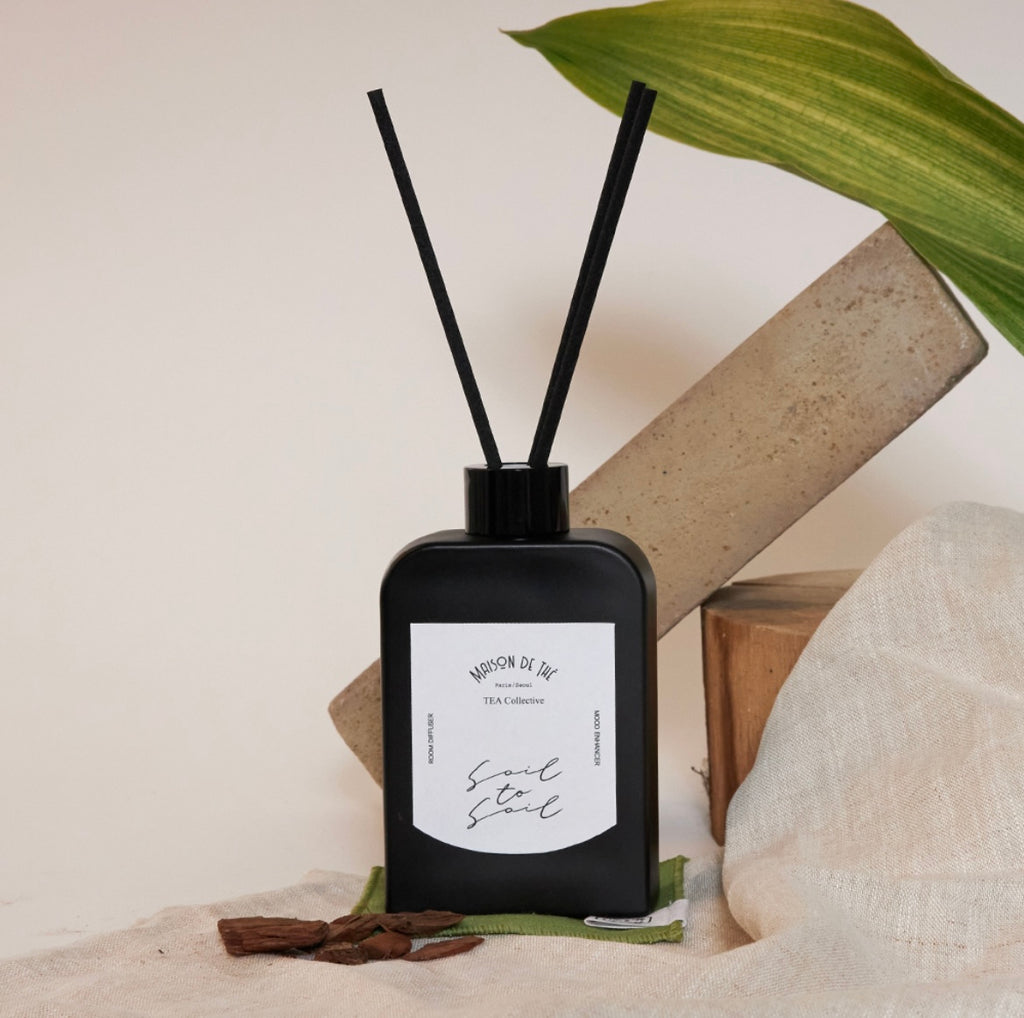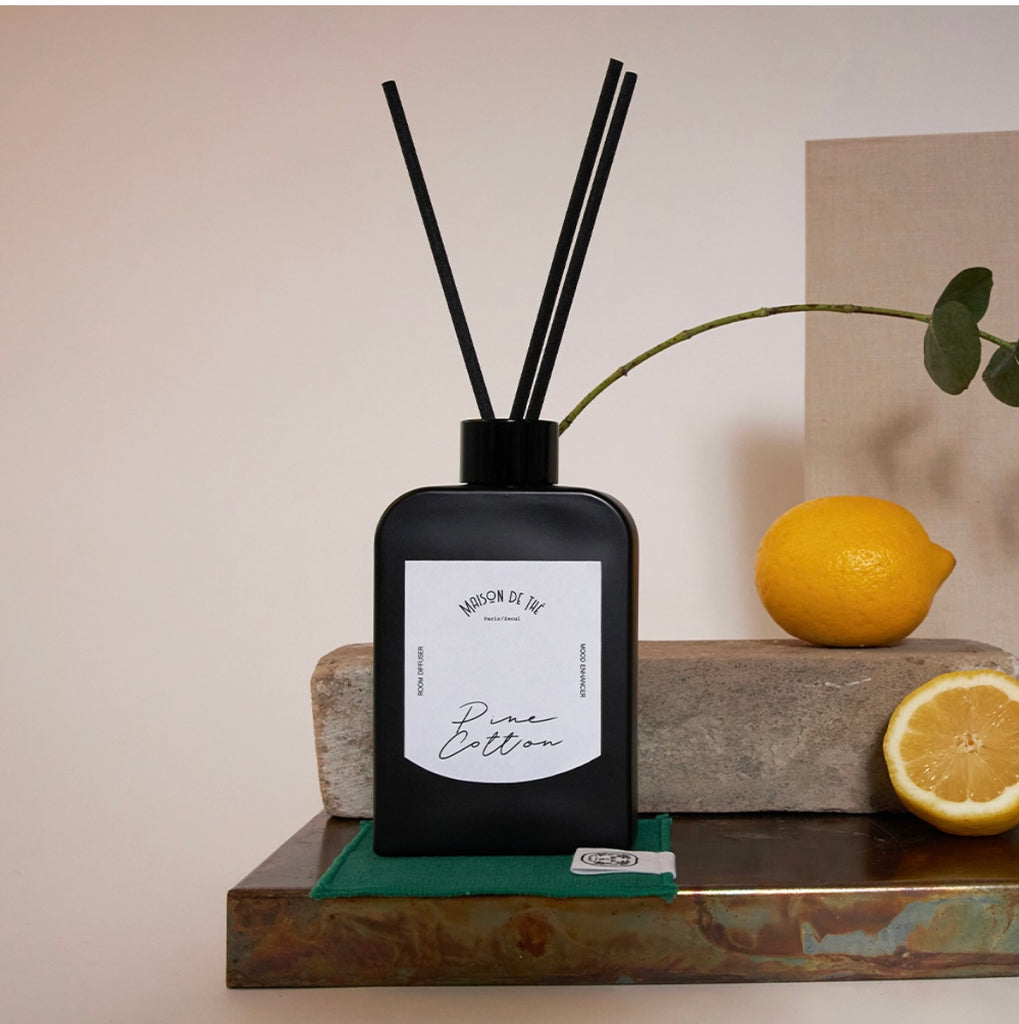 On Sale
Maison de The Room Diffuser ( 4 scents)
MAISON DE THE MOOD ENHANCER VOL.3 ROOM DIFFUSER creates an instant flameless classic that releases a fresh ambiance into any space. Fill the air with a bright burst of fresh scents. 
200 ml
Longevity:

 2

-4 months

Made in Korea.
THE HINT OF  8 SCENTS
SOIL TO SOIL : 꽃시장향
#CRUSHED LEAF / FREESIA  #JASMINE SAMBAC / TUBEROSE / MAY ROSE
#PEACH / CEDAR-WOOD / OAK MOSS
Soil to Soil instantly wraps you in spring with the effortless scent of crushed grass and roses of May. The top notes of eucalyptus and lemon refreshes the atmosphere, while the following aroma of fresh herbs transports you to the middle of a flower market.
TOP - GREEN/ EUCALYPTUS/ LEMON
MIDDLE - ROSE/ JASMIN/ HERBAL
BASE - AMBER
SMOKY HERRINGBONE
#EUCALYPTUS / MUGUET / VIOLET  #AMBER / MUSK 
#SANDALWOOD / CEDARWOOD / VANILLA
Smoky Herringbone is a refined and balanced fragrance, just like a herringbone weave. It presents you the smoky scent of burning firewood and the sensual scent of amber, musk and wood.
MIDDLE - VIOLET/ EUCALYPTUS/ MUGUET/ GREEN-NOTE
BASE - AMBER/ MUSK/ SANDALWOOD/ CEDARWOOD/ VANILLA
PINE COTTON
#LIME / RASPBERRY  #MUGUET / ROSE / PINE 
 #MUSK /  PATCHOULI / SADALWOOD / CEDARWOOD
The Pine Cotton instantly transports you to a fresh forest, first with a splash of citrus and raspberry, next with fresh pine and green notes, and settling with soft musk and earthy patchouli, sandalwood, and cedar wood.
TOP - ORANGE/ LEMON/ LIME/ RASPBERRY
MIDDLE - JASMINE/ MUGUET/ ROSE/ PINE/ GREEN-NOTE
BASE - MUSK/ PATCHOULI/ AMBER/ SANDALWOOD/ CEDARWOOD
BLOOMING TWEED
#ORANGE / LEMON  #ROSE / MAGNOLIA / JASMINE 
#MUSK / AMBER / SANDALWOOD
The Blooming Tweed elevates your space into a sophisticated enamor. The top citrusy notes of orange and grapefruit are followed with a seductive blend of rose, violet and magnolia. The journey ends in a soft, woody, vanilla-musk.
TOP - ORANGE / GRAPEFRUIT / LEMON / APPLE / CASSIS
MIDDLE - VIOLET / MAGNOLIA / GREEN-NOTE / ROSE / JASMINE
BASE - MUSK / AMBER / SANDALWOOD / CEDARWOOD / VANILLA