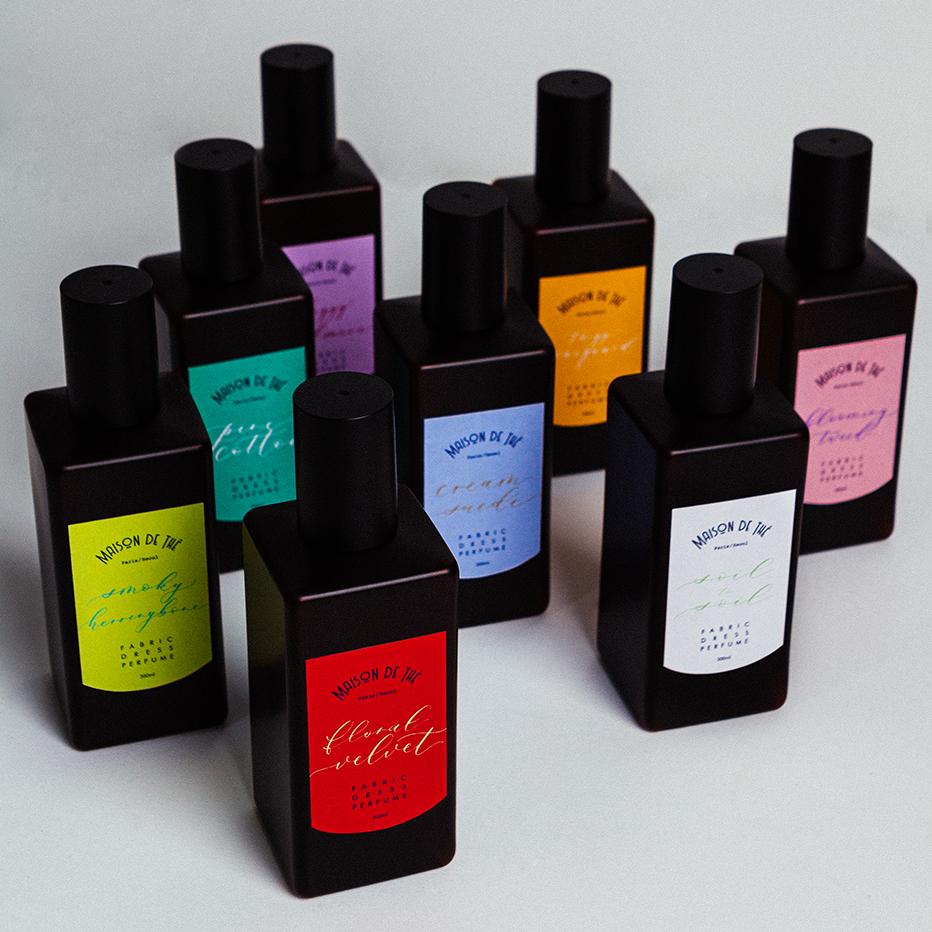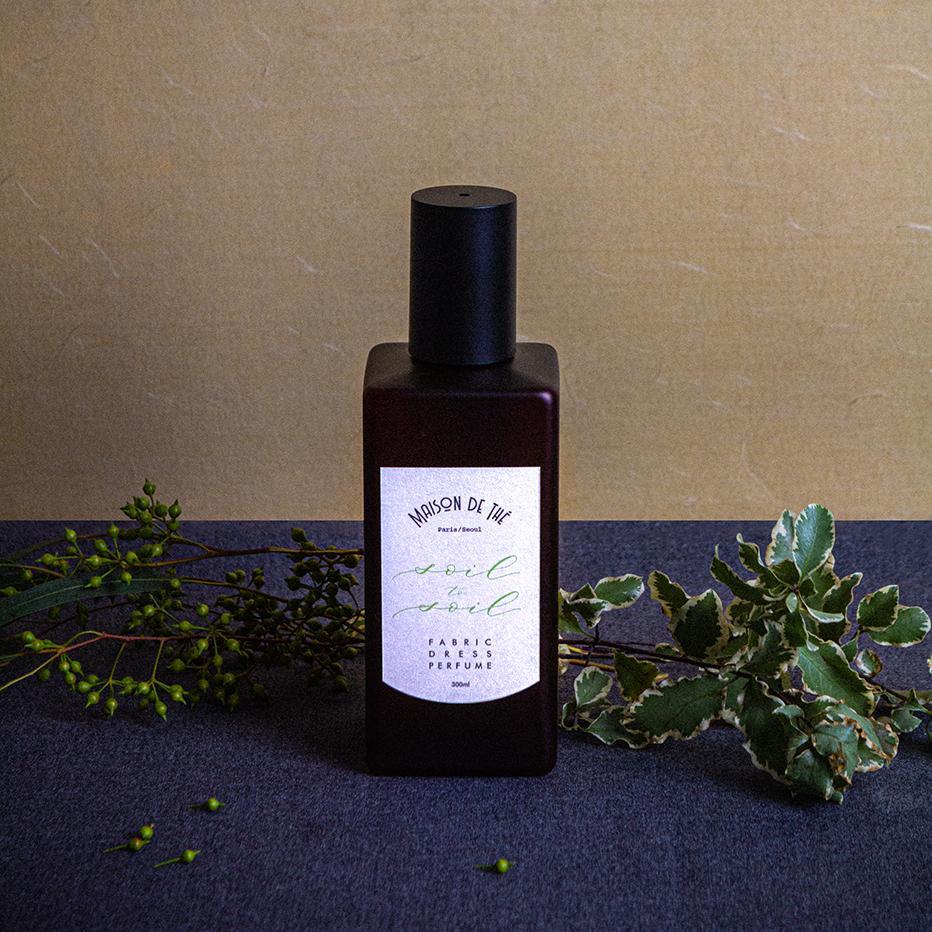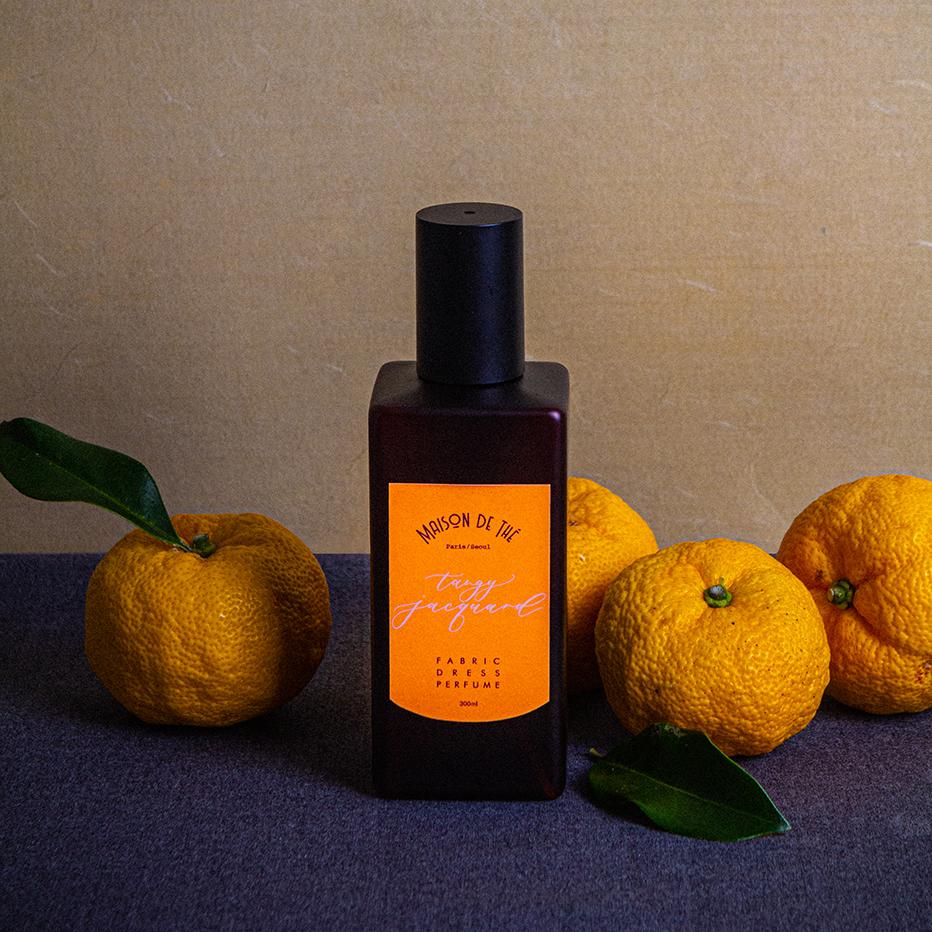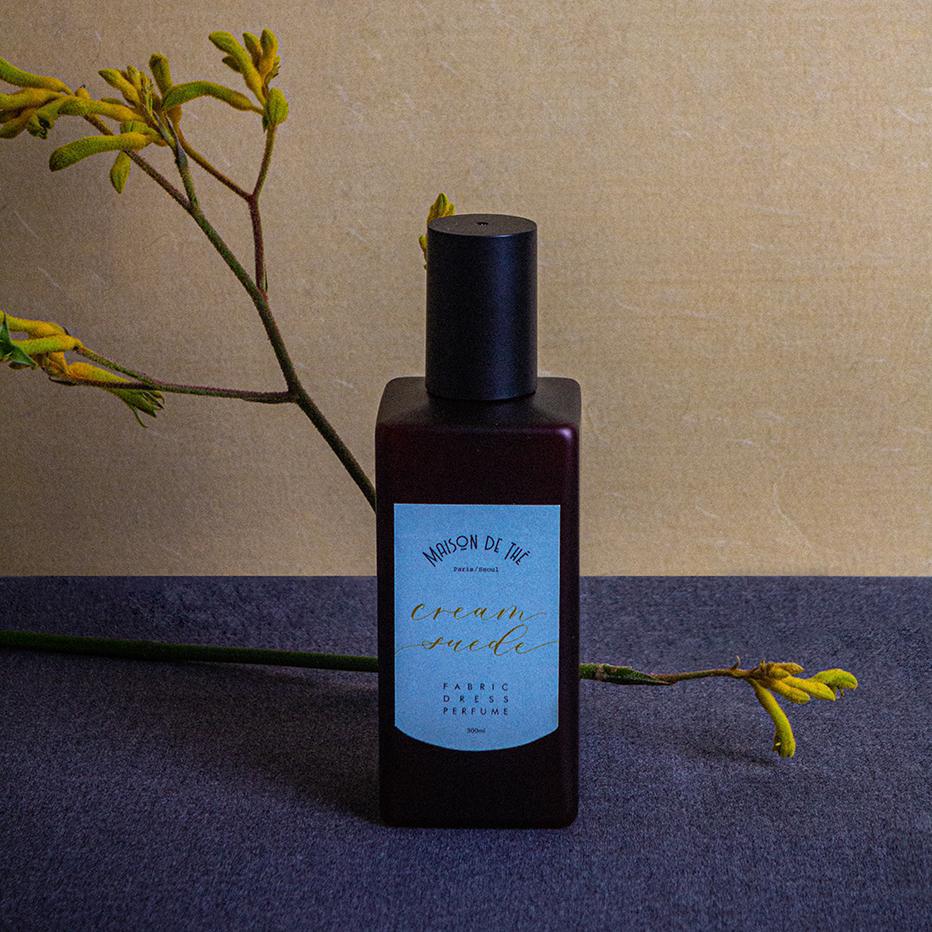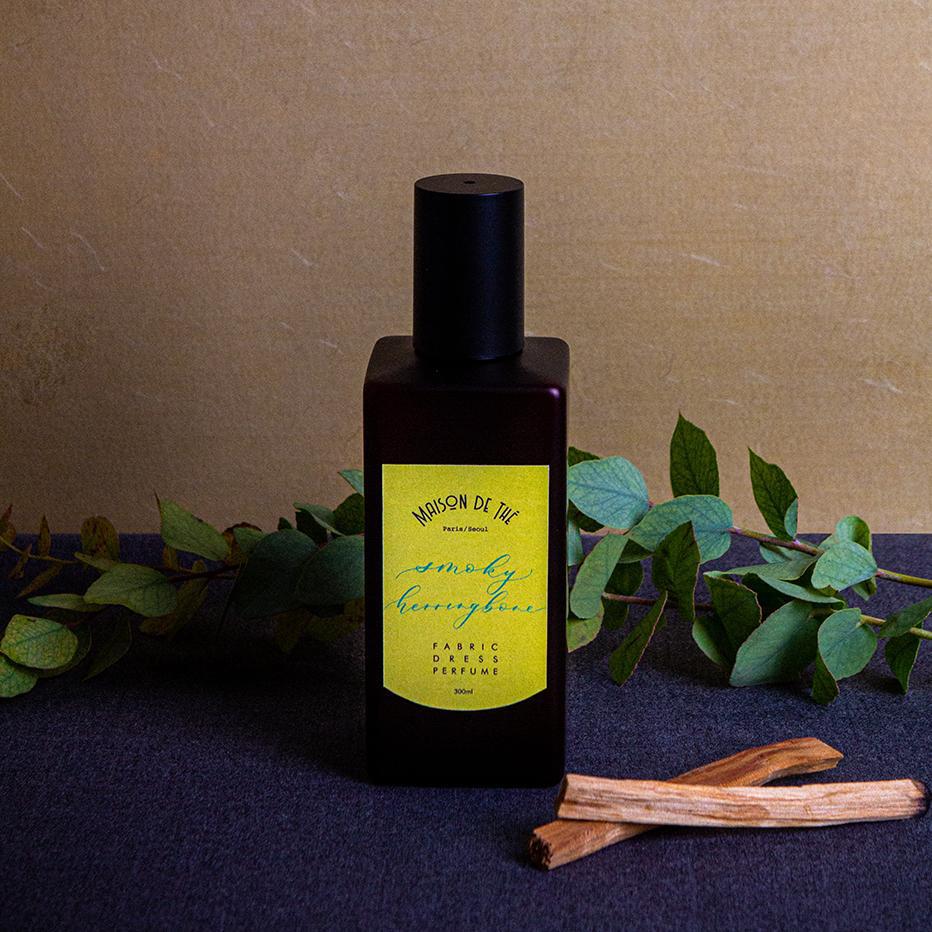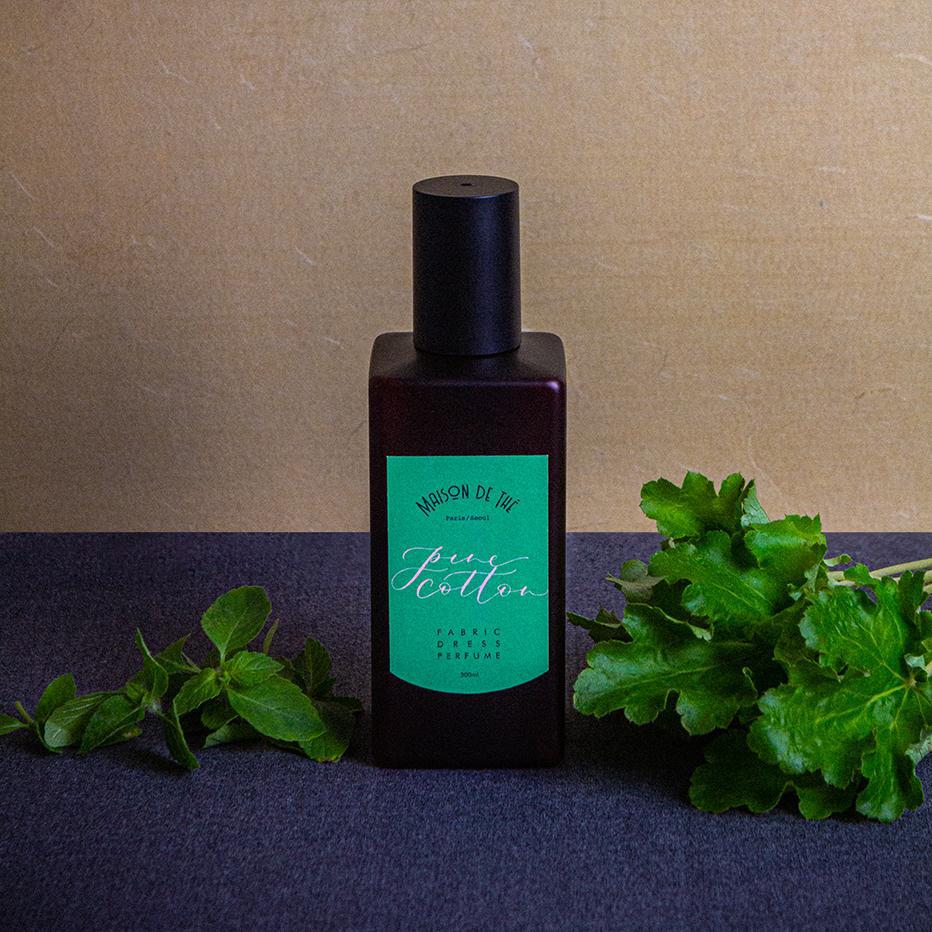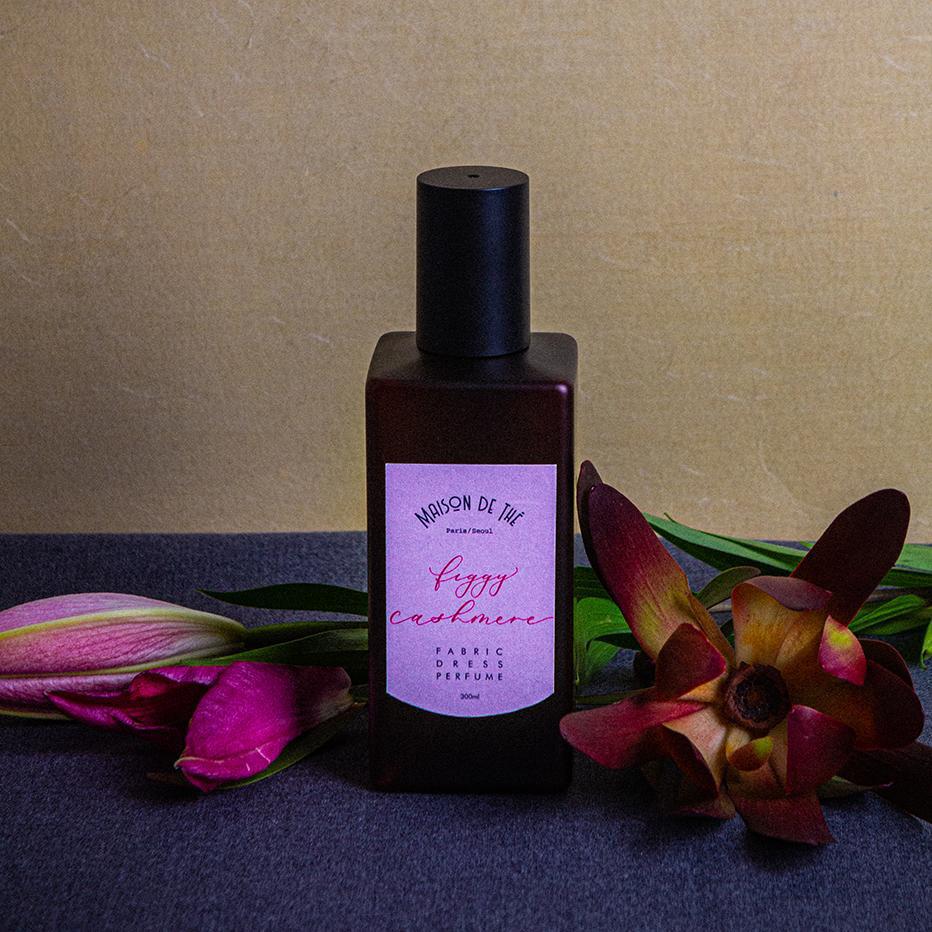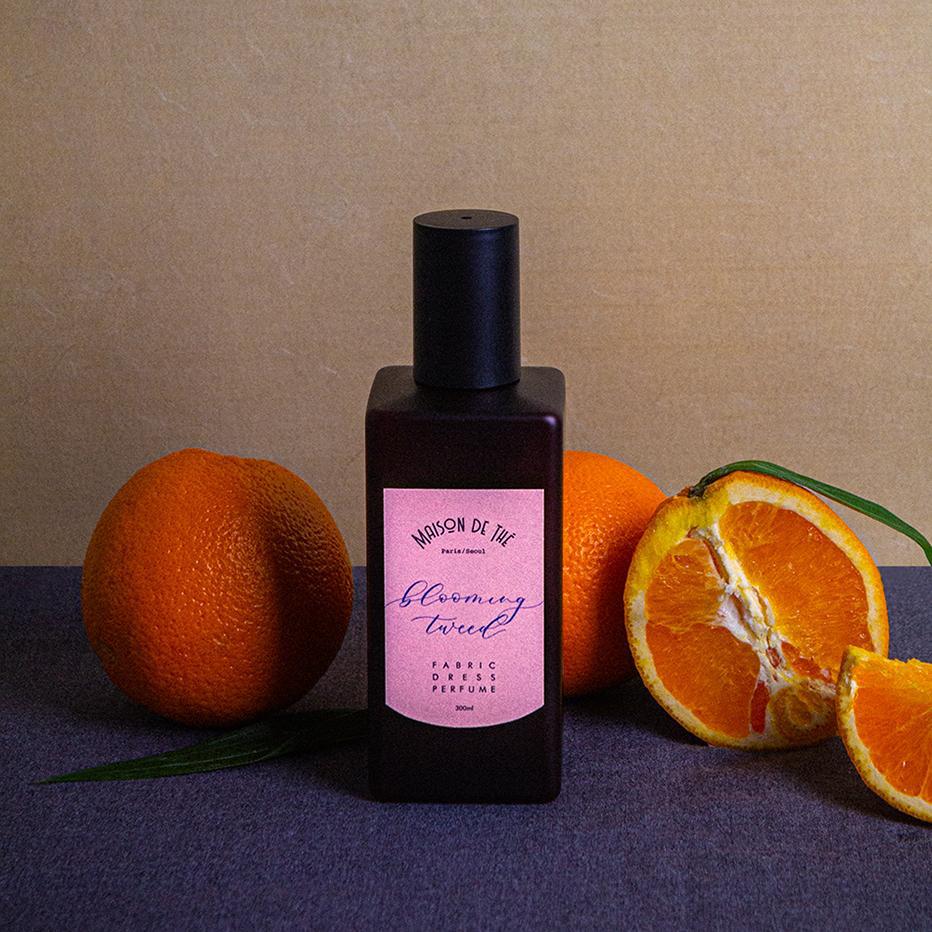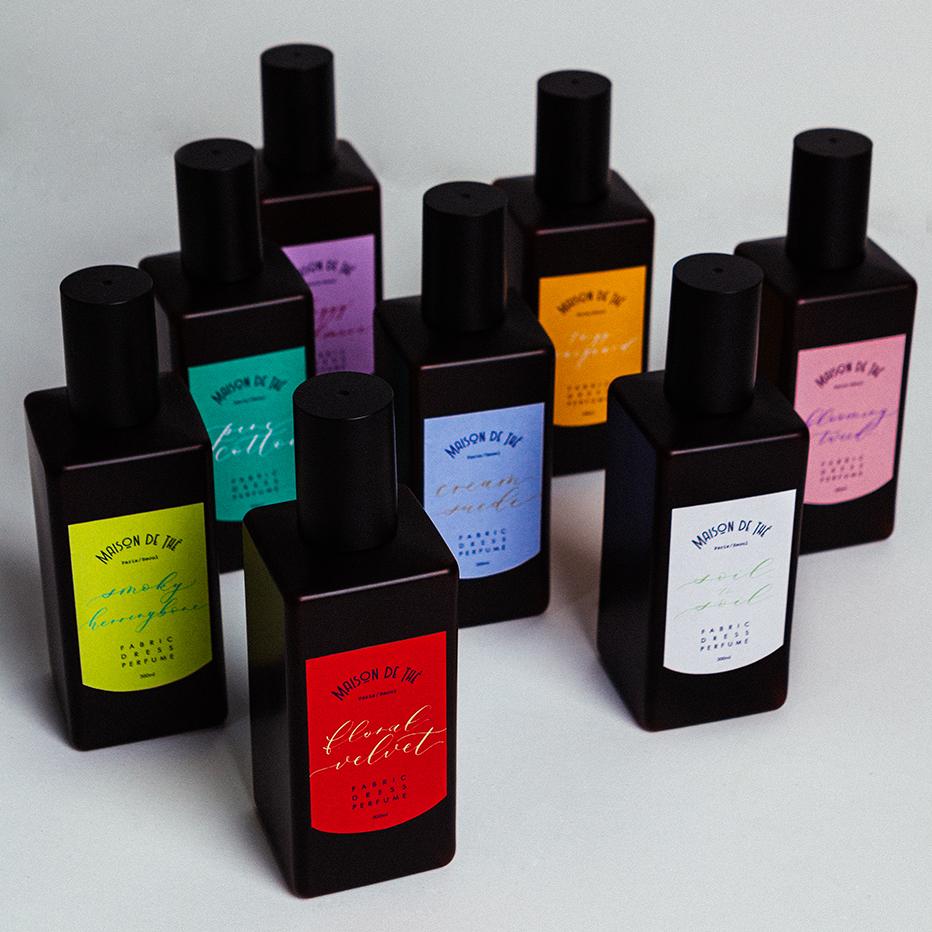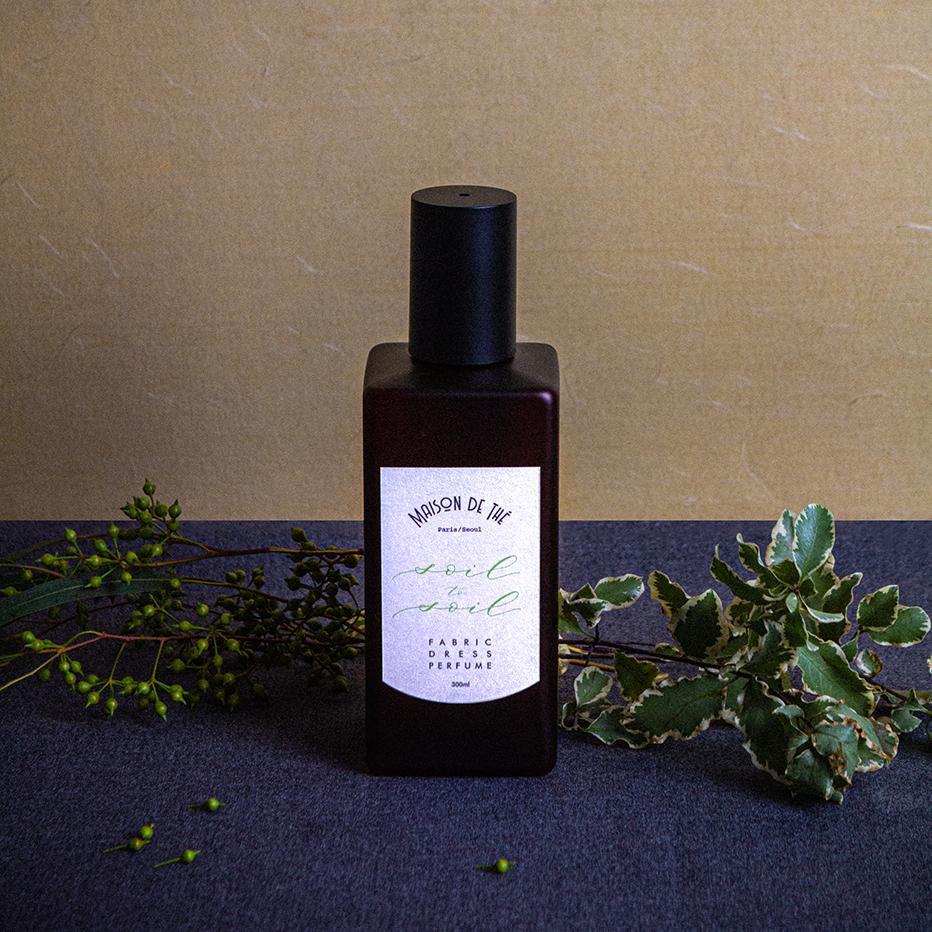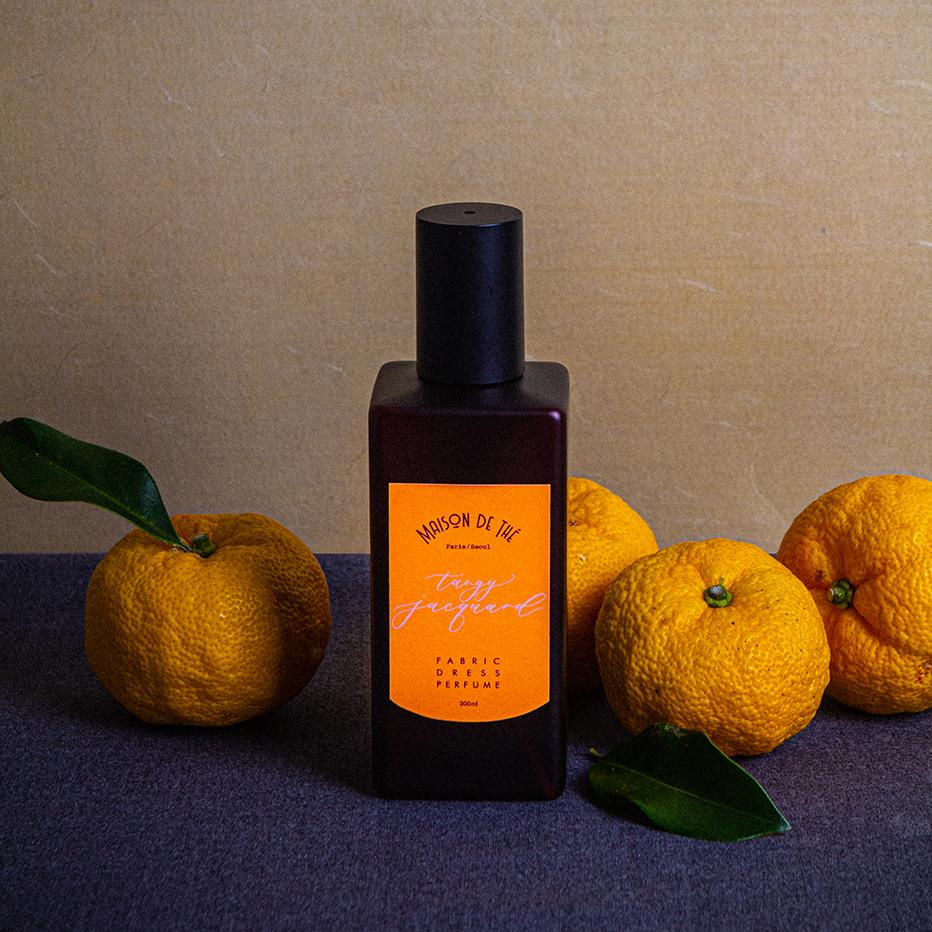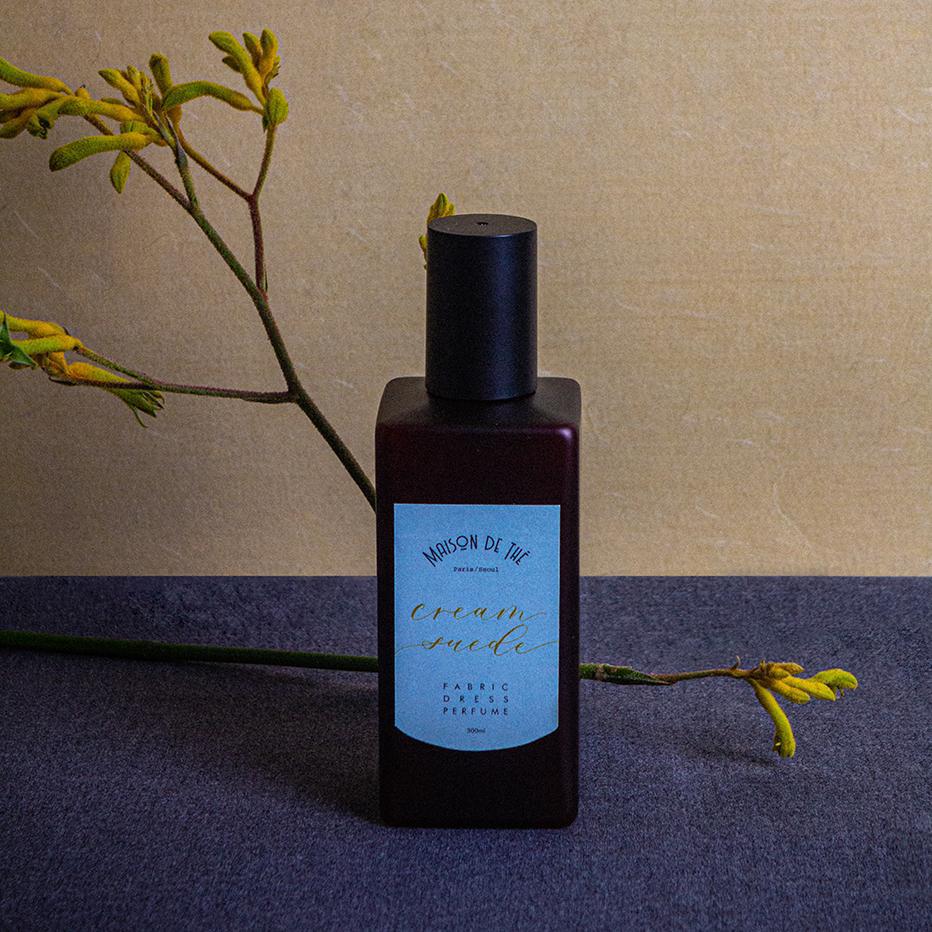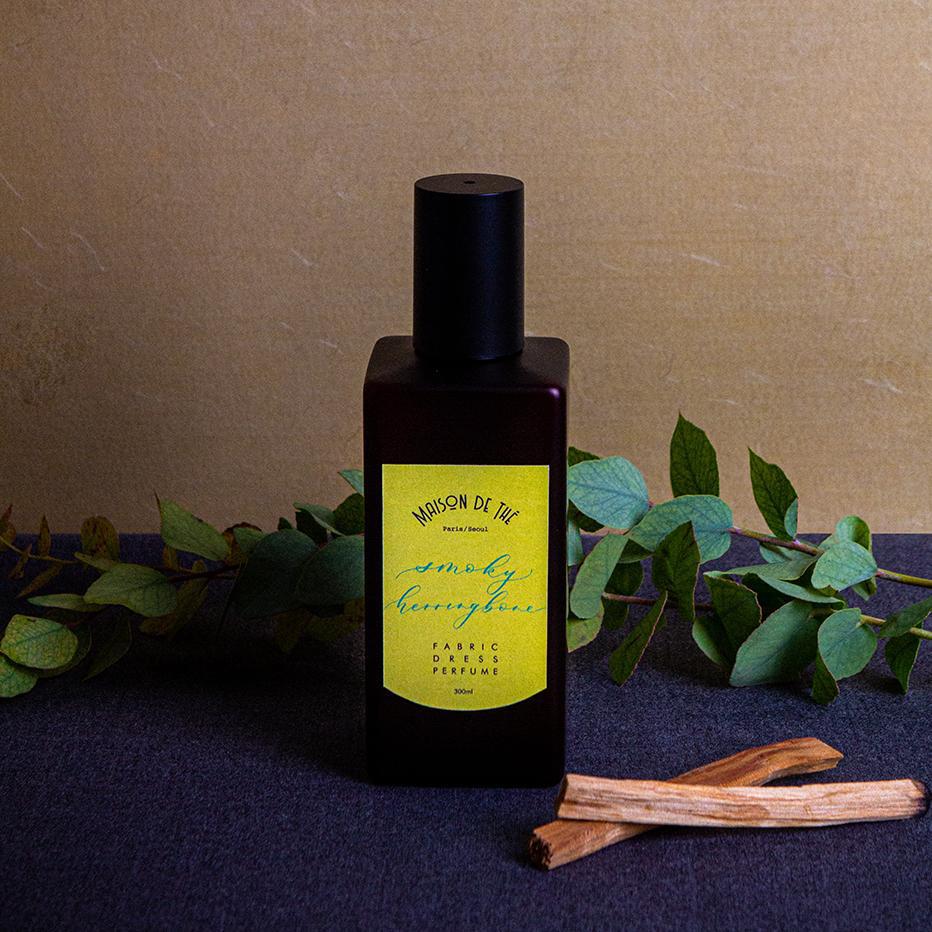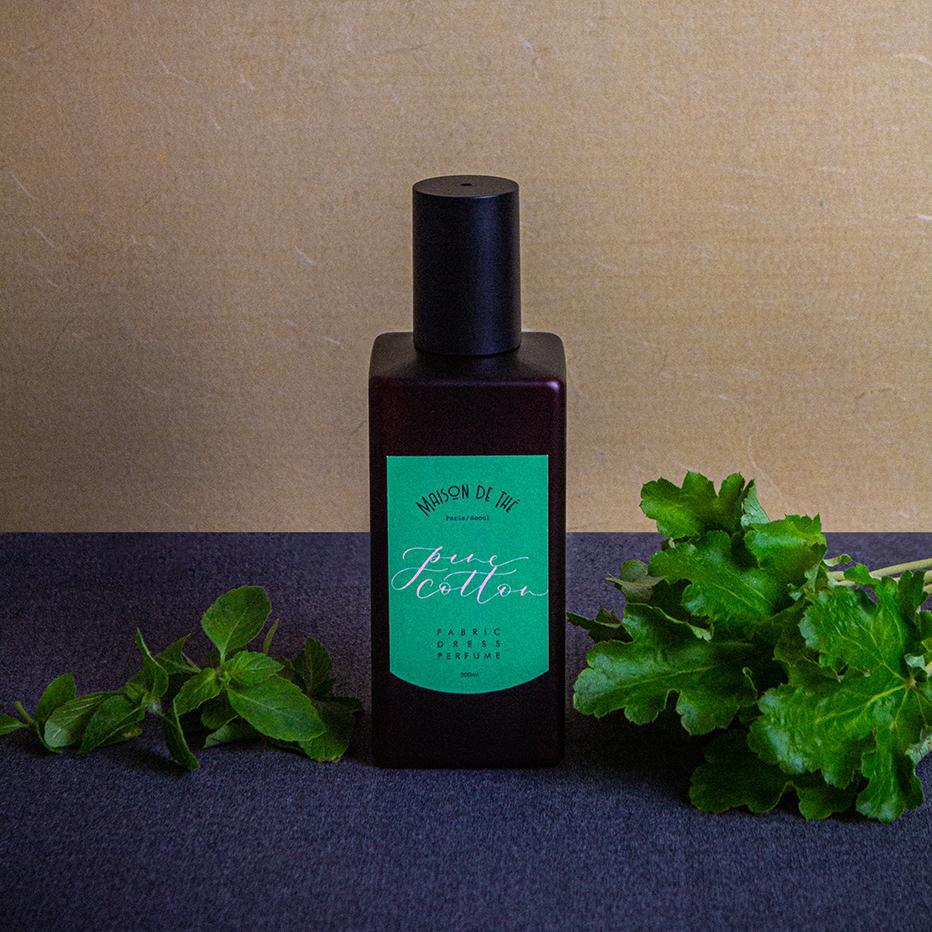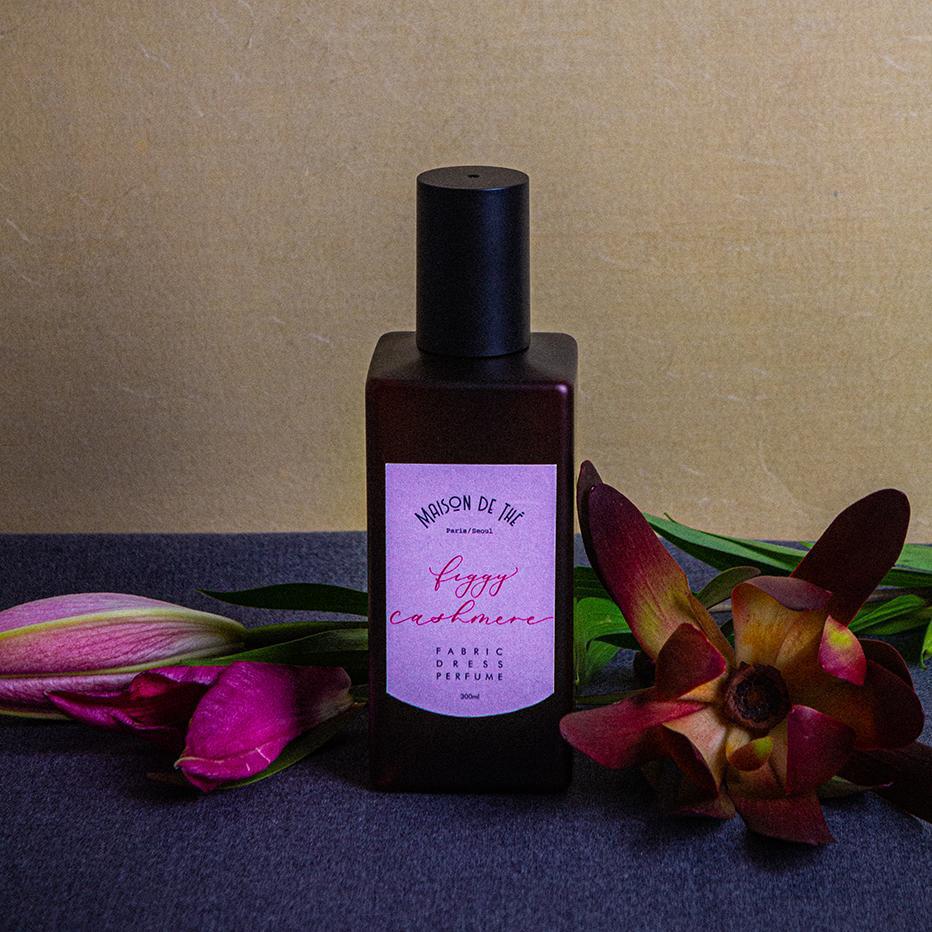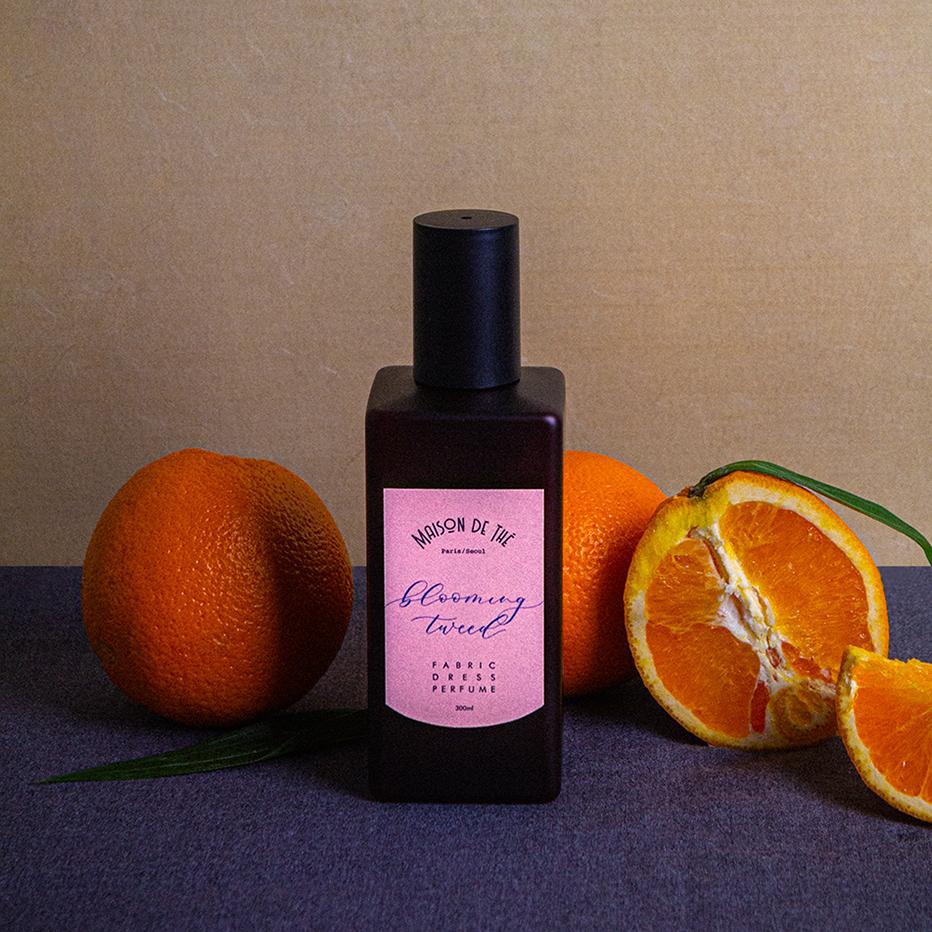 On Sale
Maison de The Fabric Dress Perfume ( 7 scents)
Ecocert-certified cypress used. The Phytoncide within the cypress has antibacterial and air purification/deodorization effects.
Lasting for 48 hours, our products show enhanced 'scent persistence', which is generally considered as a weak point of textile perfumes.
99.6% deodorizing effect. Deodorant plant extracts are used to remove odors of spaces and fibers. (Deodorizes ammonia by 99.6%, trimethylamine, a substance that causes fish and shellfish odor, by 99.6%,)
Anti-static effect. Prevents static electricity in knitwear and coats.
Skin hypoallergenic test completed. With its mild formula, it can be safely used even on the fibers that touch the body.
300ml
Made in Korea.
THE HINT OF  8 SCENTS
SOIL TO SOIL : 꽃시장향
#CRUSHED LEAF / FREESIA  #JASMINE SAMBAC / TUBEROSE / MAY ROSE
#PEACH / CEDAR-WOOD / OAK MOSS
Soil to Soil instantly wraps you in spring with the effortless scent of crushed grass and roses of May. The top notes of eucalyptus and lemon refreshes the atmosphere, while the following aroma of fresh herbs transports you to the middle of a flower market.
TOP - GREEN/ EUCALYPTUS/ LEMON
MIDDLE - ROSE/ JASMIN/ HERBAL
BASE - AMBER
TANGY JACQUARD 
#YUZE / CITRUS   #BASIL   #CLOVES / VETIVER
The Tangy Jacquard is a delicate scent like a well-woven jacquard weave. The scent begins harmoniously with basil herb and citrus, and lingers a with its musk, amber and woody base notes.
TOP - LEMON/ BERGAMOT/ MARINE
MIDDLE - BASIL/ HERBAL
BASE - CEDARWOOD/ SANDALWOOD/ MUSK/ AMBER
CREAM SUEDE
#ROSE / JASMINE   # MUGUET / AMBER  #MUSK/ VANILLA
Cream Suede is a luxurious aroma that instantly creates a sultry setting. First, the jasmine scent wafts subtly, then, the vanilla and musk hug the air effortlessly.
MIDDLE - ROSE/ MUGUET/ JASMINE/ GREEN-NOTE
BASE - MUSK/ AMBER/ VANILLA
SMOKY HERRINGBONE
#EUCALYPTUS / MUGUET / VIOLET  #AMBER / MUSK 
#SANDALWOOD / CEDARWOOD / VANILLA
Smoky Herringbone is a refined and balanced fragrance, just like a herringbone weave. It presents you the smoky scent of burning firewood and the sensual scent of amber, musk and wood.
MIDDLE - VIOLET/ EUCALYPTUS/ MUGUET/ GREEN-NOTE
BASE - AMBER/ MUSK/ SANDALWOOD/ CEDARWOOD/ VANILLA
PINE COTTON
#LIME / RASPBERRY  #MUGUET / ROSE / PINE 
 #MUSK /  PATCHOULI / SADALWOOD / CEDARWOOD
The Pine Cotton instantly transports you to a fresh forest, first with a splash of citrus and raspberry, next with fresh pine and green notes, and settling with soft musk and earthy patchouli, sandalwood, and cedar wood.
TOP - ORANGE/ LEMON/ LIME/ RASPBERRY
MIDDLE - JASMINE/ MUGUET/ ROSE/ PINE/ GREEN-NOTE
BASE - MUSK/ PATCHOULI/ AMBER/ SANDALWOOD/ CEDARWOOD
FIGGY CASHMERE
#ORANGE ALDEHYDIC  #FIGUIER / ROSE / JASMINE  #AMBER / MUSK
The Figgy Cashmere greets you with its citrus top notes, and tickles your nose with a sweeter waft of fig, rose and jasmine, and arrives at a woody base of amber, musk and earthy patchouli.
TOP - ORANGE/ ALDEHYDIC
MIDDLE - FIGUIER/ ROSE/ JASMINE
BASE - WOODY/ AMBER/ MUSK
BLOOMING TWEED
#ORANGE / LEMON  #ROSE / MAGNOLIA / JASMINE 
#MUSK / AMBER / SANDALWOOD
The Blooming Tweed elevates your space into a sophisticated enamor. The top citrusy notes of orange and grapefruit are followed with a seductive blend of rose, violet and magnolia. The journey ends in a soft, woody, vanilla-musk.
TOP - ORANGE / GRAPEFRUIT / LEMON / APPLE / CASSIS
MIDDLE - VIOLET / MAGNOLIA / GREEN-NOTE / ROSE / JASMINE
BASE - MUSK / AMBER / SANDALWOOD / CEDARWOOD / VANILLA