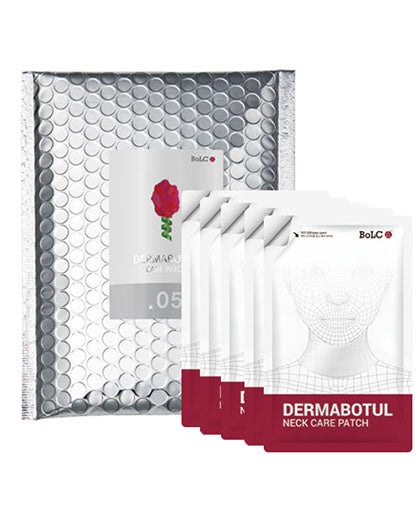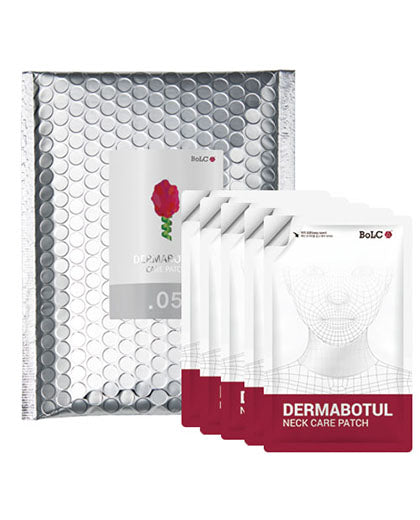 On Sale
DERMABOTUL Neck Care Patch
DERMABOTUL Neck Care Patch
DERMABOTUL by Bolca, Neck Care Patch contains Botulinum Polypeptide-1. Botulinum Polypeptide-1 has been developed after years of research and the ingredient has been proven to have outstanding results on diminishing wrinkles and helping skin look more lifted. The core ingredient of DERMABOTUL Eye Care Patch is their patented Botulinum Polypeptide-1, which stems from the botulinum protein and is a Korean FDA accredited anti-wrinkle ingredient. When used regularly this product has been known to improve skin elasticity, lifting, texture, and help fight signs of aging.
0.05mm patch which made with 100% serum
5 Neck Patches in a Packet.
Made in Korea.
Benefits
Through DERMABOTUL'S MTD (Macro-molecule Transmission Domain) technique, your skin receives key ingredients safely and effectively for optimal results. DERMABOTUL Eye Patch is anti-wrinkle, and has whitening effect and tightens your skin.
Application
1. Wash your face with water and a cleanser.

2. Tear open the pouch and take patch out of the packet. Each patch has protective plastic on both side, take protective plastic off one side of the patch and place it on desired area of your face. Once the patch is on, take the protective plastic off other side.

3. For optimal results, put it on when you go to bed at night and wash (Water dissolves the patch) it off in the morning. Four hours is optimal time, but it's up to you if you want to leave it on longer.